​THE PORTRAIT PROJECT
March 1 - 28, 2023

The Portrait Project ​is a series of Self Portraits created by extraordinary students with unique special needs and abilities in Randi Bartee's classes at Ramona High School. Facilitated by Magnet Coordinator and Mosaic Artist, Erin Maroufkhani, the goal is to promote freedom of expression, joy and creativity in each student as they navigate the process of painting and assembling their portraits.
At the beginning of the project, each student was sent home with a plastic gallon bag and an assignment to collect items that are normally thrown away. Students collected small plastic toys, puzzle pieces, beads, buttons, plastic bottle caps, lids, gems, marbles, old pencils, crayons, and old jewelry. As a group, the students sorted the recycled materials into bins, and in these portraits, each recycled piece received a new life.
Students were photographed, their images were projected onto wood panels, and they began painting their self portraits. In the process of painting, students laughed, told stories, and gained independence, confidence, and self-esteem in their work as artists. Once their portraits were painted, students used hot glue guns to affix the found objects onto their portraits. Students who needed assistance were graciously aided by the amazing team of super-heroes at Ramona, who include: Cindy Medinilla, Thien Pham, Stephanie Rodriguez, Michael Baum, Monique Diaz, Lyanne Enyeart, Natallie Ugarte, Sandy Caricato, Emily Frei, Roxanne Garcia, Isabel Lopez, Anabella Tucker, Amber Graham, Kim Soto and Frances Casiano. Please enjoy the recycled-material mosaics of our talented and fabulous student artists!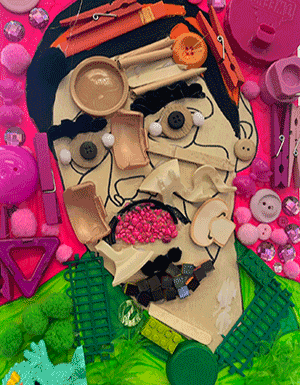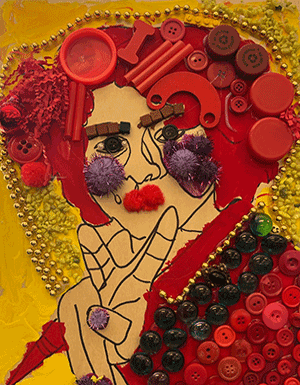 Riverside Community College District is committed to providing access and reasonable accommodations to all District programs and activities. Accommodations for persons with disabilities may be requested by contacting maria.ordaz@rccd.edu​ or 951-328-3879.
---
​​Erin Maroufkhani​
Erin Maroufkhani is the Magnet Coordi​nator at her alma mater, Ramona High School. She is a mother, wife, teacher and mosaic artist. Erin taught English and Theatre at Wright Middle School STEAM Magnet for Los Angeles Unified School District from 2014-2020, and was honored to receive the LAX Coastal Chamber of Commerce Teacher of the Year Award in 2017. Together with her parents, artists Cathy​ and Greg Maxwell, she created the National Wall of Respect Mosaic Mural in Riverside, which celebrates individuals with intellectual and developmental disabilities and special needs. Erin was honored to co-organize and create Riverside's Rise! Mosaic Mural in 202​1 and Ramona High School's Unity Mosaic Mural in 2022. Her dream is to continue creating community-based artwork that teaches, inspires and brings us all closer to​get​her. Working with Randi Bartee and her student artists has been a great honor.​
​


​​